Besan Ladoo Recipe – Sweet Chickpea Flour Balls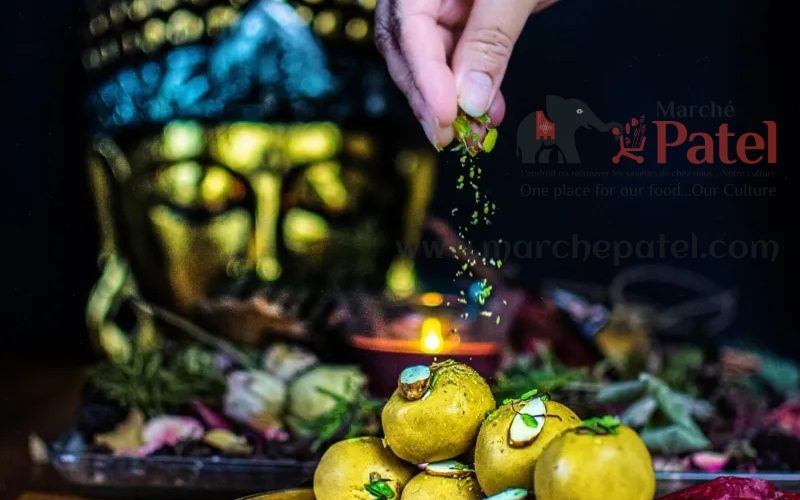 Besan Ladoo Recipe or Besan Ke Laddu is one of the most popular Indian desserts. These ladoos are so fragrant, delicious and have a melt-in-mouth texture. You can cook them during festivals and special celebrations at home for your loved ones.
Besan ladoos are usually made and served during festive occasions as prasad (offerings to God) in many temples.
These easy to make healthy and gratifying ladoos are energy bombs. Have a ladoo or two for breakfast and you are set for the day. In Besan ladoo recipe, gram flour is roasted slowly in ghee and then combined with sugar and other flavorings, and afterwards molded into a ball shape.
Besan Ladoo is made with very basic and minimal ingredients such as, gram flour (besan), sugar, and ghee. These ladoos taste amazing without any additional flavorings.
But if you are into flavorings, then the addition of some cardamom powder and the touch of your favorite nuts (almonds/pistachios) is all you need to glorify this beautiful dessert.
What is Ladoo?
Ladoo, Laddu or laddoo is a name for a sphere-shaped Indian sweet. These ball-shaped sweet delights are one of its kind delicacies of Indian cuisine which are usually made during festivals & celebrations. Basic ladoos are made with some kind of flour, ghee, and sugar.
Ladoo can be made with the addition of various ingredients like chopped nuts or dried raisins. But they are always shaped into round solid balls. Laddus are made with some kind of flour, fat (ghee/butter/oil), and sugar, along with other ingredients which vary by recipe. These ingredients include chopped nuts and raisins.
What are the ingredients for Besan Ladoo?
For making homemade besan ladoo you will only need 5 basic ingredients. These ingredients are:
Besan (Gram Flour)
Ghee (Clarified Butter)
Powdered Sugar Or Boora
Cardamom Powder (Ilaichi Powder)
Chopped Nuts
INGREDIENTS
For Besan ladoo
1 & 1/4 cups besan (gram flour)
1/4 cup + 2 tablespoons + 1 tablespoon ghee (You can add more ghee, if the mixture feels dried)
3/4 cup + 2 tablespoons powdered sugar or boora sugar/tagar (You can add more sugar, if you like)
1/4 tsp cardamoms powder (hari ilaichi powder)
2 tablespoons sliced almonds or cashews (optional)
For Garnish
---
INSTRUCTIONS:
How to make roast besan
Heat 1/4 cup + 2 tablespoons ghee in a heavy bottom pan over low heat.
Add besan and stir well to combine the besan (gram flour) with ghee.
Roast over low heat and keep stirring continuously. At first, it would resemble to crumbs, and after 6-7 minutes it will form a clump.
Keep stirring besan on low heat, and after 18-20 minutes besan will turn slightly aromatic and it would also start changing its color to golden.
At this point add 1 tablespoon ghee and mix well.
After adding ghee, the mixture will turn into a smooth paste.
Roast for five more minutes. The mixture would now turn airy, light and fluffy.
Splash roasted besan with 1 tablespoon of water and mix well. Keep stirring for 2 minutes.
After 2 minutes the besan granules would puff up and you will have a grainy mixture.
Immediately turn off the heat and transfer roasted besan to the mixing bowl.
Keep aside and let it cool for 10 minutes or until slightly warm.
How to make besan ladoo
Once the mixture is warm and easy to touch, add the powdered sugar, chopped almonds, chopped cashews, and cardamom powder. (Do not add sugar to hot besan.)
Mix everything well together until the sugar, cardamom, and nuts are well combined. (At first, the mixture might seem a bit dry, so keep mixing it with your hand until it is greasy and well combined.)
When the mixture is greasy and good enough to hold a shape, take a small portion from the mixture and roll it into a smooth ball. (For making a round shape, roll and press the mixture between your palms.)
Repeat the same with the remaining dough. You can make about 8-10 ladoos with this mixture.
They might not look perfectly round at this point. So let them set for about 10 minutes and roll them again.
Top each ladoo with a slice of almond or sliced pistachios.
Store besan ladoo in an airtight container lined with parchment paper. They stay fresh for up to 3-4 weeks at room temperature.
NOTES:
Traditional ladoo is made with tagar/boora sugar (made with sugar syrup), but finding boora everywhere is not so easy. So simply replace the boora with store-bought powdered sugar.
Remember to roast besan flour at low heat and keep stirring continuously. This is very important because if you stop stirring besan, then there are chances that besan might get burnt from the bottom.
I added sliced almonds to my ladoos. You can add any other chopped nuts or you can simply omit to add any nuts to besan ladoo recipe.
I personally don't like raisins in my besan ladoo, but if you like you can also add some raisins to the besan mixture along with sugar.
Halwai (Confectioner) style ladoos sometimes have muskmelon seeds, so if you like, you can also add some toasted muskmelon seeds (kharbuje ke beej) to it.
If the roasted ladoo mixture looks too dry, then add 1 tablespoon of melted ghee to it.
If the roasted ladoo mixture looks too wet, then keep it in the refrigerator for 10 minutes. The mixture would harden and you would be able to roll ladoos.